Remote Asset Monitoring
Receive real-time alerts when the security of your property is compromised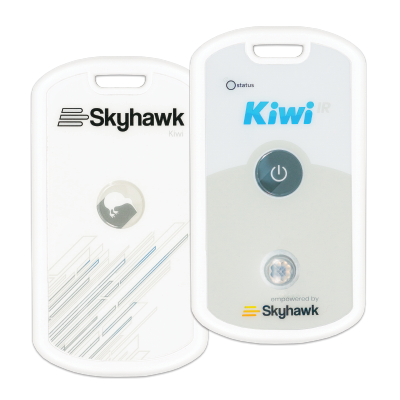 Remote Storage & Asset Monitoring
Protect Your Assets with Kiwi and Kiwi IR
The Skyhawk Kiwi and Kiwi IR offer solutions to quickly set up a remote monitoring application using advanced cellular connectivity and our smartphone-based loT monitoring platform. Many of us own valuable items in remote locations away from our watchful eyes. Skyhawk's Kiwi and Kiwi IR offer a cost-effective, easy-to-deploy means of monitoring.
Protect portable storage containers
Monitor barns, sheds, boats, and RVs
Protect construction equipment from tampering
Cabin and vacation home protection
LTE cellular-connected
Long-lasting battery life
Real-time Alerts
Weatherproof
The Skyhawk CE App serves as the control center for all your deployed Kiwi units. Monitor battery status, manage notifications and add and remove sensors through a streamlined user interface.
Skyhawk CE receives regular updates for Android and iOS devices to ensure mobile device compatibility and add new features as the platform evolves.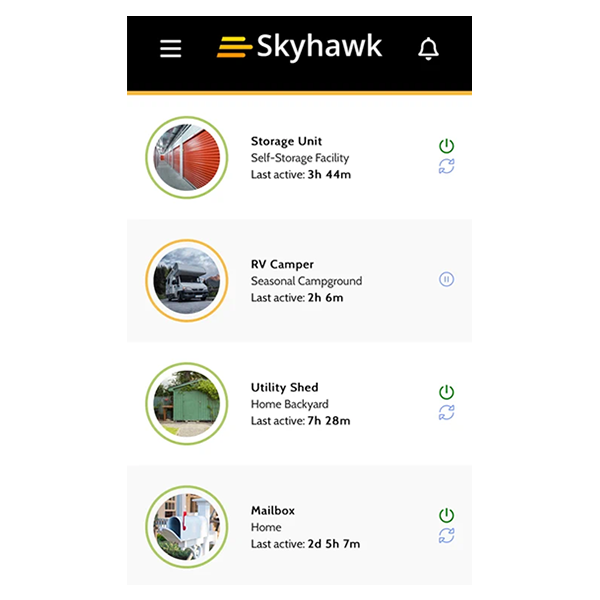 The Simple Way to Protect Your Investments
24/7/365 Visibilty
Skyhawk offers peace of mind without the expense and maintenance of hardwired security systems.
No Wi-Fi? No Problem.
Unlike other remote monitoring solutions that use batteries that need frequent replacement, require AC power for hubs, and need Wi-Fi networks to work, our remote monitoring solutions use ultra-long-life batteries and cell towers to connect.
Built to last
Monitoring your storage with our rugged, low-hassle devices is a breeze! All devices utilize ultra-long-life batteries cutting maintenance times.
Our sensors are water-resistant and designed to last 5-10 years using standard batteries and water-resistant hubs last more than a year using replaceable off-the-shelf batteries.
Featured Remote Storage & Shed Monitoring Products
Does the unit need to be connected via Wi-Fi to work?  
No, our units connect via cellular connection. No pairing with Wi-Fi networks or entering passwords necessary!
How do I get alerted? 
You can choose to receive a text message, email, app notification or all three!  As soon as the unit is triggered you'll get a notification via your chosen method(s).
What if my shed does not have electricity running to it? Can the unit still work?  
Of course, our units are battery-powered. No hardwires or plugins are required.  
What if the storage facility does not have Wi-Fi?  
No problem! The unit does not need Wi-Fi. The device runs off a cellular connection.  
How do I know if the unit is working?
Our unit has a Heartbeat feature that will let you know the unit's status.   
What if I am not close to the unit? Will I still be able to receive the notifications?  
Yes, the units connect to the cellular network so you will receive notifications no matter where you are.
Where should you place the unit in an RV?  
You can place a unit at any potential entry point inside your RV.   
My property is in a remote area. Will the unit still work? 
Yes! Our units connect via cellular network and are powered by long-lasting batteries. Wi-Fi, Bluetooth, or access to electricity is not needed. There needs to be a cell signal. It does not have to be strong. Generally, if a text can be sent, our units will work.
Are there other units that can be used to monitor my assets?