Rodent & Wildlife Control
Equip Your Rodent Control Techs to Cover More Ground. Simply.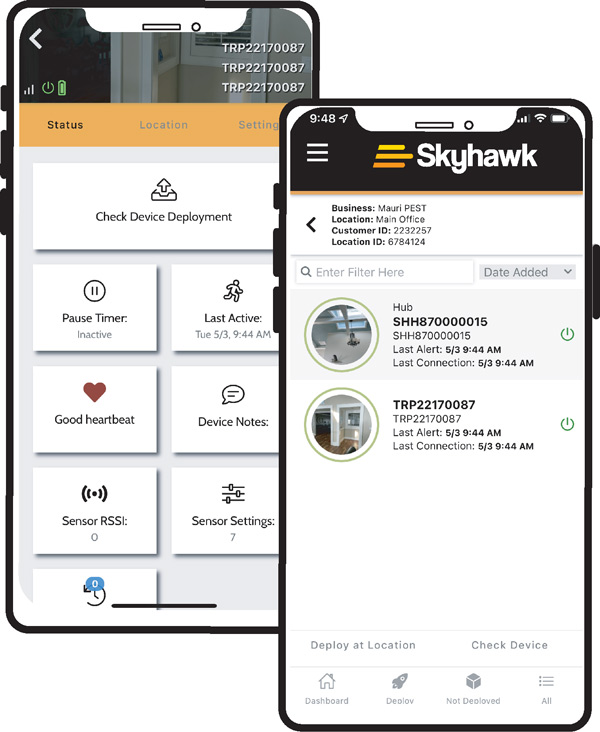 Experience portable and straightforward trap deployments and management!
Skyhawk's Hub and Vibration/Magnet Sensor is a cost-effective multi-trap monitoring solution that allows rodent control technicians to monitor deployed traps and bait stations more efficiently. Place a hub at the monitoring location and sensors on each trap or bait station. When a trap is triggered or a bait station is entered, the technician is alerted on the Skyhawk software application.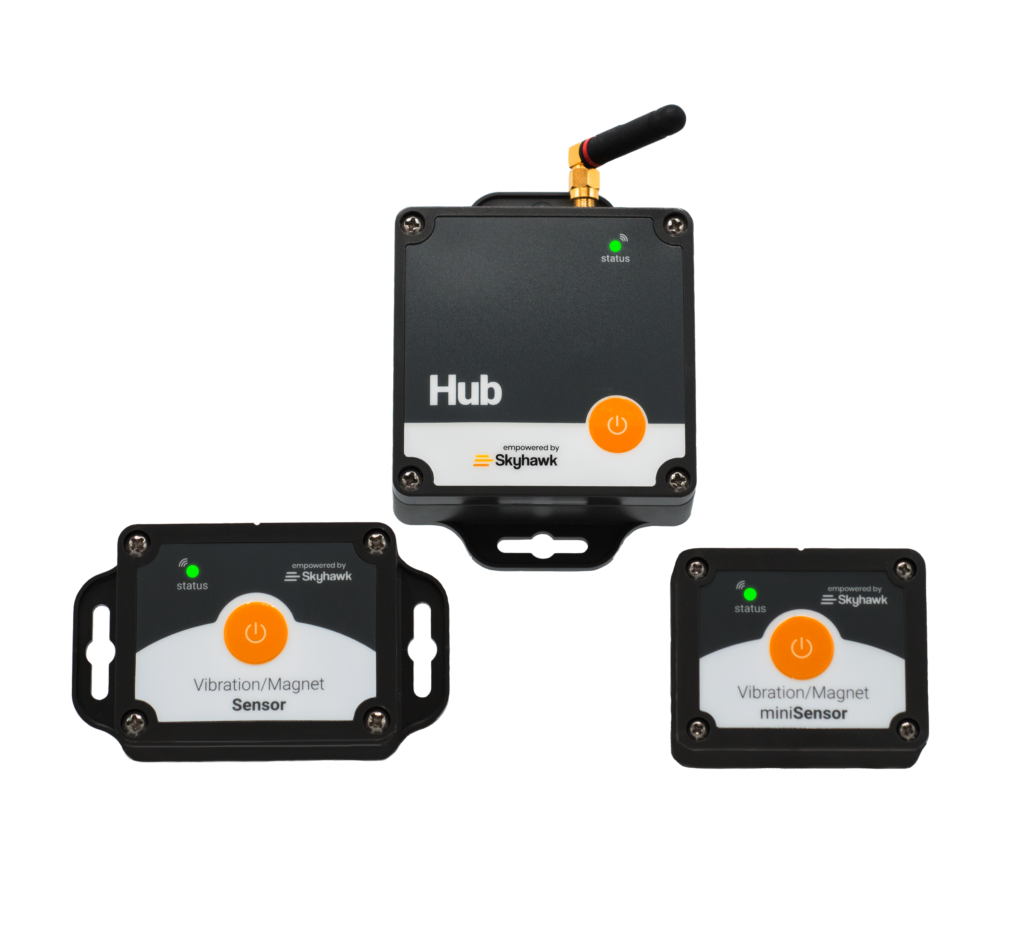 Be more efficient and take on more jobs!
Our solutions are flexible for use in commercial and residential applications.
Hub & Sensors work with all types of traps. Save money by using what you already own!
Reduce or eliminate the use of rodenticide.
No external power sources are needed for Hub or Sensors!
Operates using standard AA batteries for years of uninterrupted service.
The Skyhawk CE app securely sends alerts and notifications to your smartphone.
Skyhawk's Exclusive FLOCKSENSE™ Technology
Proprietary FLOCKSENSE™ technology allows a single advanced low-power cellular connection to extend to multiple Sensors and communicate to the centralized Hub. This one-to-many technology saves money and time by letting you deploy Skyhawk Hubs and Sensors without needing numerous connections.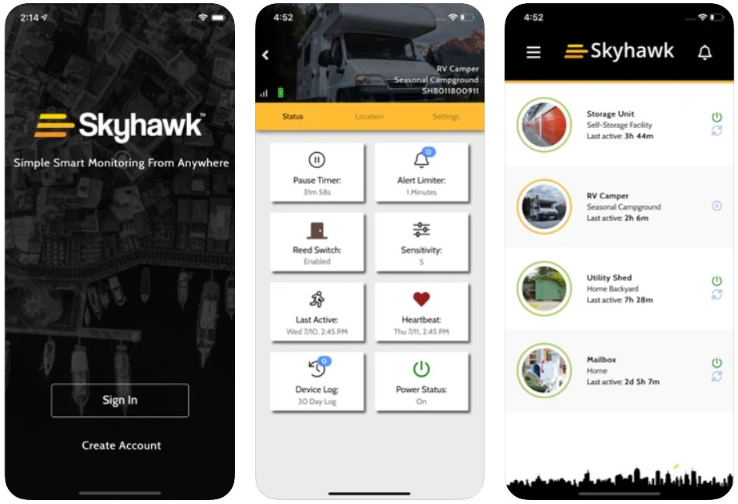 The Skyhawk CE App serves as the control center for all your deployed Hubs and Sensors and Kiwi units. Monitor battery status, manage notifications and add and remove sensors through a streamlined user interface.
Skyhawk CE receives regular updates for Android and iOS devices to ensure mobile device compatibility and add new features as the platform evolves.
Awarded "Outstanding Innovator of 2019" by NWCOA (National Wildlife Control Operators Association)
The Simple Path to Higher Profits
Spend less time checking traps.
Checking rodent traps, bait stations, and wildlife traps is labor-intensive. That puts pressure on your bottom line and spreads your staff too thin. Our hubs instantly connect with all sensors - no pairing required!
Rats don't need Wi-Fi, and now neither do you!
Unlike other remote monitoring solutions that use batteries that need frequent replacement, require AC power for hubs, and need Wi-Fi networks to work, the Hub & Sensors use ultra-long-life batteries and utilizes cell towers to connect - significantly improving the capabilities of the devices!
Built to last
Managing your traps with our rugged, low-hassle devices is a breeze! All devices utilize ultra-long-life batteries that cut maintenance times.
Our sensors are water-resistant and designed to last 5-10 years using standard batteries, and our water-resistant hubs last more than a year using replaceable off-the-shelf batteries
Featured Rodent & Wildlife Control Products
An overview of the latest and greatest in remote trap monitoring for Wildlife Professionals. With Alan Huot of Wildlife Control Supplies.
Rodent & Wildlife Control FAQ
Is it easy to deploy hubs and sensors?
They are easy to deploy. Just follow our online videos or the manuals provided with the packaging for helpful tips and tricks.
How long are the cords for hubs? 
No power cords are needed! Our hubs and sensors use standard AA batteries designed to last a year plus with average use.  
Do I have to rely on the customer's Wi-Fi signal for the devices to communicate? 
Each device will operate using cellular connectivity, so there is no need to inconvenience the customer by asking to hook up to their Wi-Fi network. This also allows you to use the unit in more remote locations!  
What other traps can the sensors be used with? 
A variety! Snap traps, live traps, conibear traps, and lethal traps just to name a few. The accelerometer and reed switch give the sensors the versatility to be used with any trap set up.
How difficult is it to change the batteries? 
Changing them is very simple! After removing the screws and opening the device, you can simply replace the existing batteries for new ones.  
Can rain damage the sensors?  
The devices are weather-resistant, although they should never be submerged in water. In addition to this, we also offer sleeves for the devices to further protect them from the elements. 
Where can I place this device? 
With the devices' design, it can be attached to any area of your choosing. You have the options of the provided accessory pack, or a standard zip tie will hold the unit in place with ease.  
Will the sensors be triggered by wind or rain? 
The devices have sensitivities that can be adjusted from 1 to 10. A lower sensitivity can be used with traps that generate a lot of force, like conibear traps. This way, wind or rain will not trigger a response, but the trap closing certainly will. 
What if I lose track of where I set all of my traps? 
Each unit's deployment location can be viewed from the app! When each trap is set, you can easily go to the app and mark the location using your phone's location feature. In addition, you can take a picture to go with each unit on the app and include notes and descriptions of the unit's location!