Skyhawk Enterprise App & Portal
Electronic Remote Monitoring for Modern Pest Control and Asset Management
Enterprise Level Remote Monitoring Solutions
The Skyhawk Mobile App for Enterprise is the key to simplified, remote monitoring of traps and other pest control devices.  Get instant updates on your phone from devices across all of your locations no matter where you are.  No more need to go from building to building to check trap status.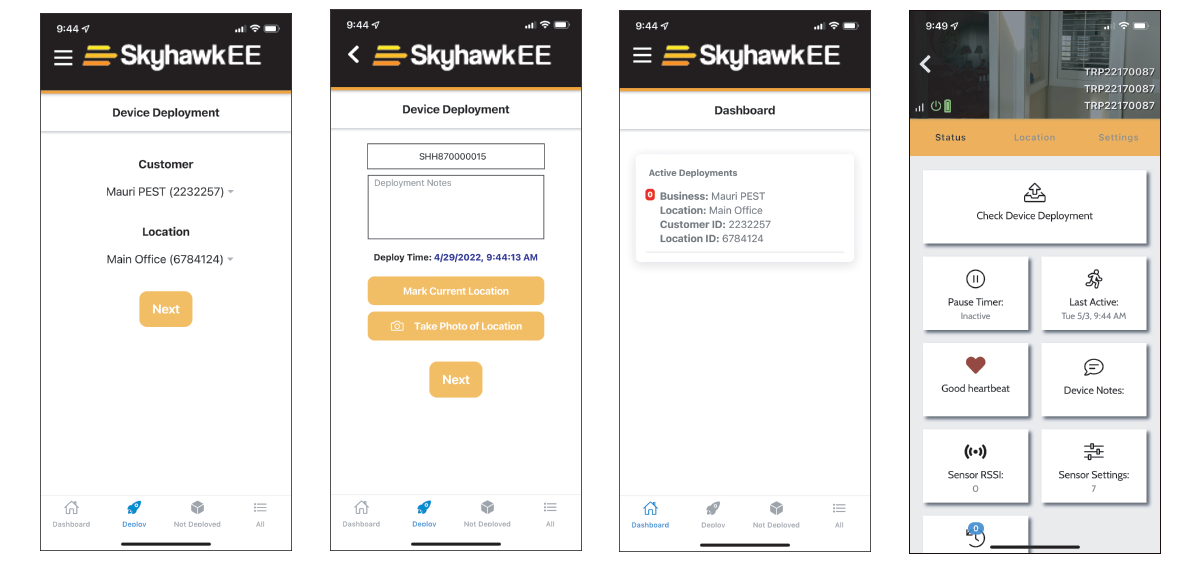 The Skyhawk Mobile App for Enterprise features a simple, easy to follow workflow for deploying devices out in the field.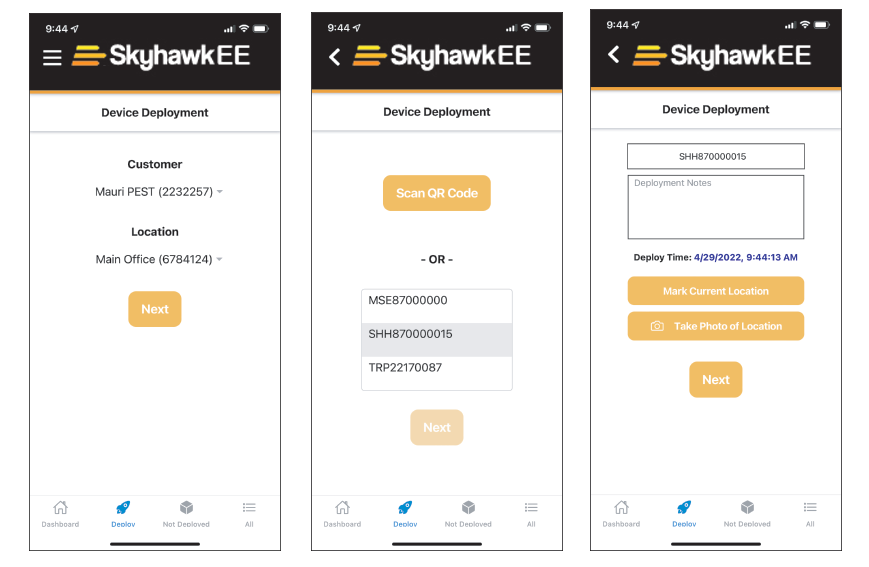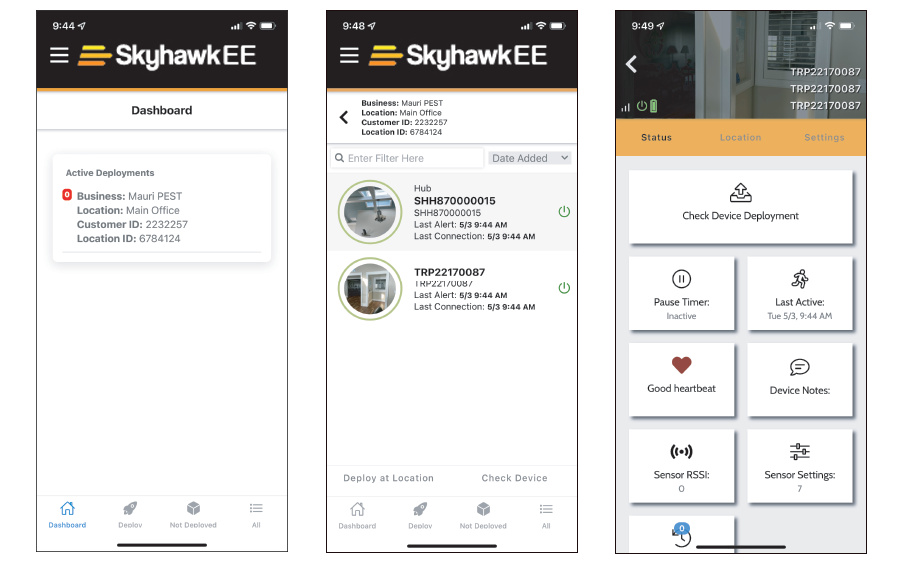 The Skyhawk Mobile App for Enterprise provides accurate deployment detail for your overall deployment, or drill down to device level.
Enterprise Portal Overview
The Skyhawk Enterprise Portal is your gateway to the insights you need to ensure your business is running at its very best. Designed to be easy to use, with the ability to track device deployments, assign technicians, and maintain your customer details, the Enterprise Portal gives you the broad view you've been looking for to ensure your company's success.
The dashboard view allows you to identify the devices you currently have deployed in the field, and quickly assess which have alerts that require attention.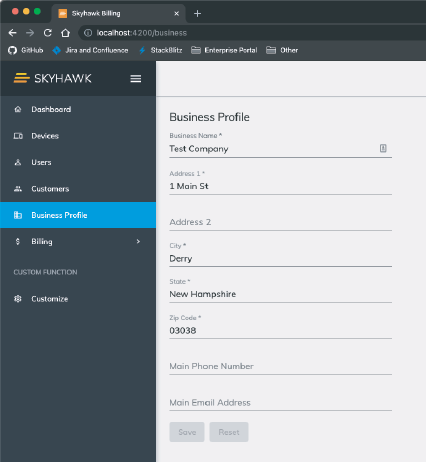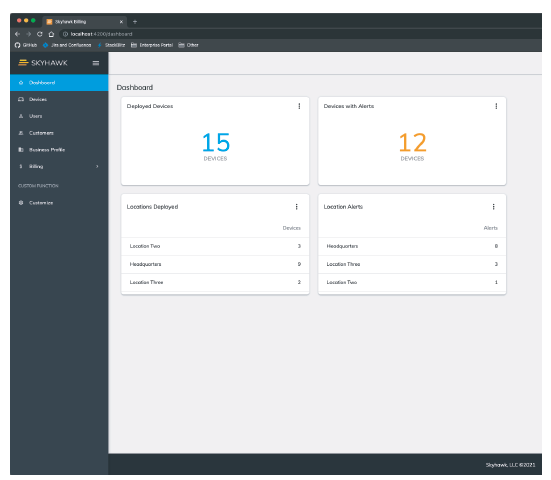 Get fine-grain device detail for each of your deployed devices including last active date, notes, sensitivity, and more.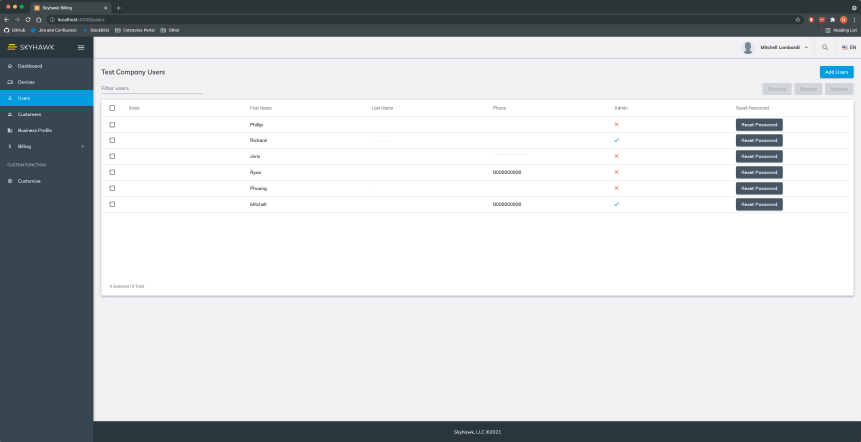 You have complete control of accounts that are associated with your company.
You can easily keep track of your customers, their various locations, and all devices that you have deployed across their sites.
Frequently Asked Questions: Enterprise Customers
Can you confirm how recurring charges work? Are they Monthly or Quarterly? What about sensors and hubs that are not deployed? Am I paying for them either way?
General:
Tiered HW/Subscriptions.
All units are shipped pre-subscribed; however, the subscription tier determines your monthly invoiced amount.
Scenario A:
Corporate (Blanket PO, central Invoice, HW can ship anywhere) such as SAP's Ariba or Oracle's Procurement Cloud.
Subscription pricing based on usage tiers potentially which would be 0-50 unit, 50-100, 100-250, 250-500, 500+ in 6-month time periods.
Adjust up or down depending on usage every six months. 0-50 will be the list price, 500+ will be the maximum discount.
Scenario B:
Franchises or Independents that are not on Corporate MRP such as SAP's Ariba or ORACLE's Procurement Cloud.
Case by case pricing.
Deploying across technicians – what happens if I have a device in my hand that is not assigned to me?
Currently, assigning and unassigning of devices can only be completed from the Enterprise (admin) Portal.
The following capabilities are currently in development and are targeted for release in Q3/Q4:
If you have a device that is not currently assigned to you, be able to self-assign the device via the mobile app.
We are investigating the best method to move an assigned but undeployed device from one technician to another.

Is there a way for a technician to reassign and deploy, or does that have to happen from the admin side?
Skyhawk Enterprise Portal (admin) must assign and re-assign.
Notifications – How can I get a manager and a tech to receive the same notifications?
Notifications can be sent to multiple email addresses and telephone numbers. This can currently be done from the device view, on a device-by-device basis.
You can also set up a "catch-all" email or telephone number for receiving notifications for all devices. This can be found under your Username (in the upper right-hand corner), and selecting Settings. From there, you can update your preferences under the heading "Device Notification Preferences".
The "Device Notification Preferences" will be expanded over time to allow the adding of multiple emails and telephone numbers in a future release.
As a technician, do you have access to the online portal, or do you have to be an admin to enter customer information?
 Only the Enterprise Portal admin has permission to enter customers/customer sites through Enterprise Portal.
A "view only" role with specific permissions is being added; target Q4 for rollout.
How do we add more business-type options?
You can define business types relevant to your sites.
Can we view pictures from the admin portal?
Pictures taken in the app can currently be viewed on the Enterprise (admin) Portal. These can be viewed either by expanding the device on the Devices view, and clicking on the image tile, or by clicking on the image icon on the Customers > Location > Location Details view.

Are un-deployments completed expressly from the app?
"Un-deployments", or as we refer to them in our system, Pickups, are best handled when they are completed by the technician in the field at the time of the pickup. However, it is possible to pick up, or un-deploy a device from the Enterprise (admin) Portal on the Customers > Location > Location Details view by ticking the checkbox next to the devices that need to be picked up, and click on the 'Pickup' button.

Operating Temperature ranges? Max/min
Min 0°F to Max 140°F (tied to battery temperature ratings).
How do I see location alerts from the admin portal Enterprise (admin) Portal without going in to each device?
Upon log in, if you have active deployments, you will see these deployment on your Dashboard. These deployment tiles will provide you all the quick information you need at a quick glance including the customer name and customer location, how many devices are part of that particular deployment, the address, and the technician the deployed devices are currently assigned to. You will also see if there are any pending "New Alerts" and with a quick mouse click will be able to see how many alerts occurred across which devices and what the latest alert was for each device.

Pricing for Enterprise Portal
Corporate: Enterprise Portal Pricing TBD applicable for all sites.
Non-Corporate: Enterprise Portal Pricing TBD by site.