Skyhawk PRIoT Connectivity Platform
 

A vertically integrated IoT solution with battery-powered cellular gateways, sub-GHz RF sensors and software applications for both cloud and mobile
Powering a new class of IoT monitoring
The Skyhawk PRIoT platform provides a complete solution for IoT design engineers who want to combine the reliability of Verizon's LTE CAT-M1 connectivity with the drop-in portability of battery-powered gateways.
The platform combines long-life battery-powered gateways, high power sub-GHz sensor communications and a purpose-built cloud and mobile applications framework.
Offering portability, reliability and customizability, the PRIoT platform will increase the value and utility of your existing IoT solutions and enable entirely new IoT applications that powered gateways could never do.
No external power? No problem.
The requirement for IoT gateways to be plugged in has limited the growth of IoT. Many locations don't have power, and in some places where there is power, it's not in the best spot for RF connections to hundreds of remote sensors. The challenge has been the high power requirements of sub‑GHz RF communications.
Skyhawk has solved this problem with proprietary wake-on-radio circuitry and power management algorithms. Our gateways operate on an average of less than 1mW of power – 1/1000th the power draw of most other sub‑GHz gateways.
The result? A drop-in IoT gateway you can place anywhere there is cellular signal, in whatever location is best for connecting to sensors.
Always on. Always connected.
Because they consume so little power, Skyhawk PRIoT gateways can monitor hundreds of sensors for more than two years on three AA batteries. Need 10 years? Add more batteries to your design.
And Skyhawk's cellular cloud eliminates the need for WiFi or Ethernet, utilizing Verizon's LTE CAT-M1, which has the best coverage in the United States.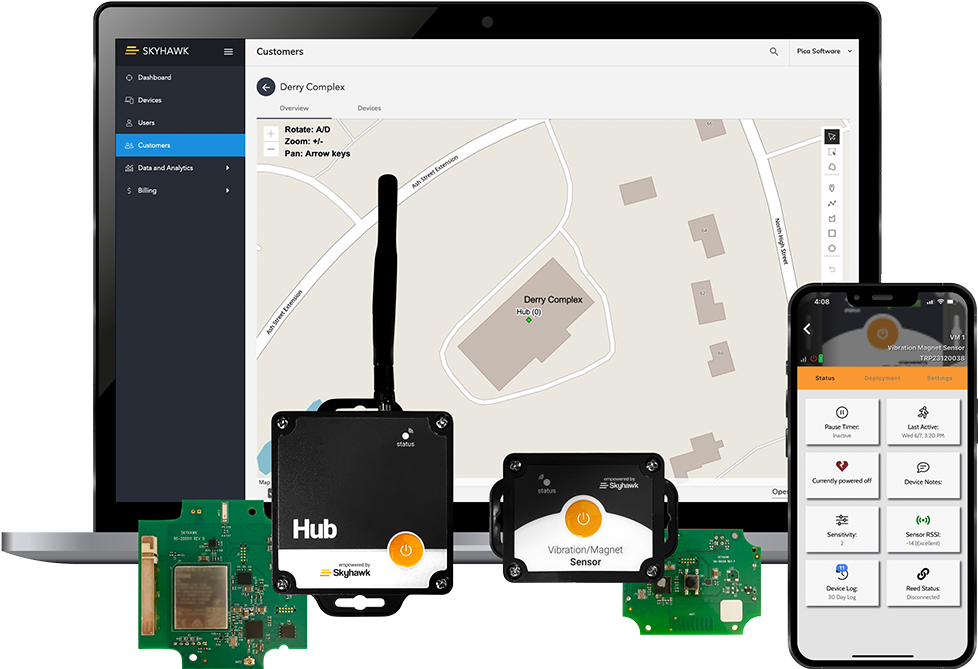 Complete vertical IoT solution – Gateways, sensors and cloud/mobile software stack
100% battery-powered – Place your gateways anywhere there is a cell connection
Maintenance-free – Runs 2+ years on 3 AA batteries (gateway); 10+ years on 2 AAs (sensors). Add more batteries for longer life
Reliable cloud connection – Verizon 4G LTE CAT-M1 network
Sub-GHz high power RF – 1500 ft LOS range
Any low data sensor – Alerts or polling sensors
Easy setup – No pairing required
Location on demand – Cellular/WiFi/GPS triangulation
Full software stack – Device dashboards, customer license management, billing, location mapping, and more
Fully customizable – Your sensors, your branding, your applications
A complete and customizable IoT solution
The PRIoT platform is available as PCB modules, as packaged white-labeled products, or as a turnkey customized solution. We provide an array of the most useful sensor types, or you can integrate the PRIoT sensor communications modules with any alert or polling sensors.
All Skyhawk PRIoT solutions come with a license for the Skyhawk mobile and cloud software stack. You'll get dashboards to control your devices, monitor their status, track their location and broadcast alerts, along with data pipelines, license management and billing. Use as is or add your own features.
Want a turnkey solution? Skyhawk is part of the PICA Group, a leading U.S-based electronics manufacturer, and we can help your team design and manufacture a complete IoT hardware solution, from gateway to sensors to custom software.
Skyhawk and the PICA Group – Your IoT Partner
Skyhawk PRIoT products come from PICA Product Development, one of the PICA Group companies. Headquartered in Derry, NH, and with manufacturing operations in the United States, Malaysia and China, PICA (www.picamfg.com) has for more than 30 years helped develop and manufacture top consumer, medical and industrial electronics products for the world's top technology companies and retailers.
AN IDEAL REMOTE MONITORING SOLUTION
The Skyhawk PRIoT Platform's battery-powered cellular gateways, sensors and software are a full vertical solution ideal for IoT applications in:
Agriculture
Property Management
Construction
Transportation
Asset Monitoring
Public Space Management
Land Management
Aquaculture
Smart Cities
Smart Factories
Any monitoring environment where there's no power or where the power is inconveniently located
For more information about Skyhawk remote monitoring solutions, fill out the form below, email us at [email protected], or call +1 (800) 760-3966. We'll get back to you shortly. 
With the Skyhawk PRIoT Platform, you can place your gateways in optimal locations to reliably collect sensor data for years – in places where other gateways that require power can't reach

Skyhawk platform hardware specifications
The Skyhawk PRIoT platform hardware is available in three formats:
Packaged gateways and sensors that can be branded to your company
PCB modules you can incorporate into your existing manufacturing process
Custom manufactured solutions to your specifications, manufactured by PICA Manufacturing Solutions (www.picamfg.com)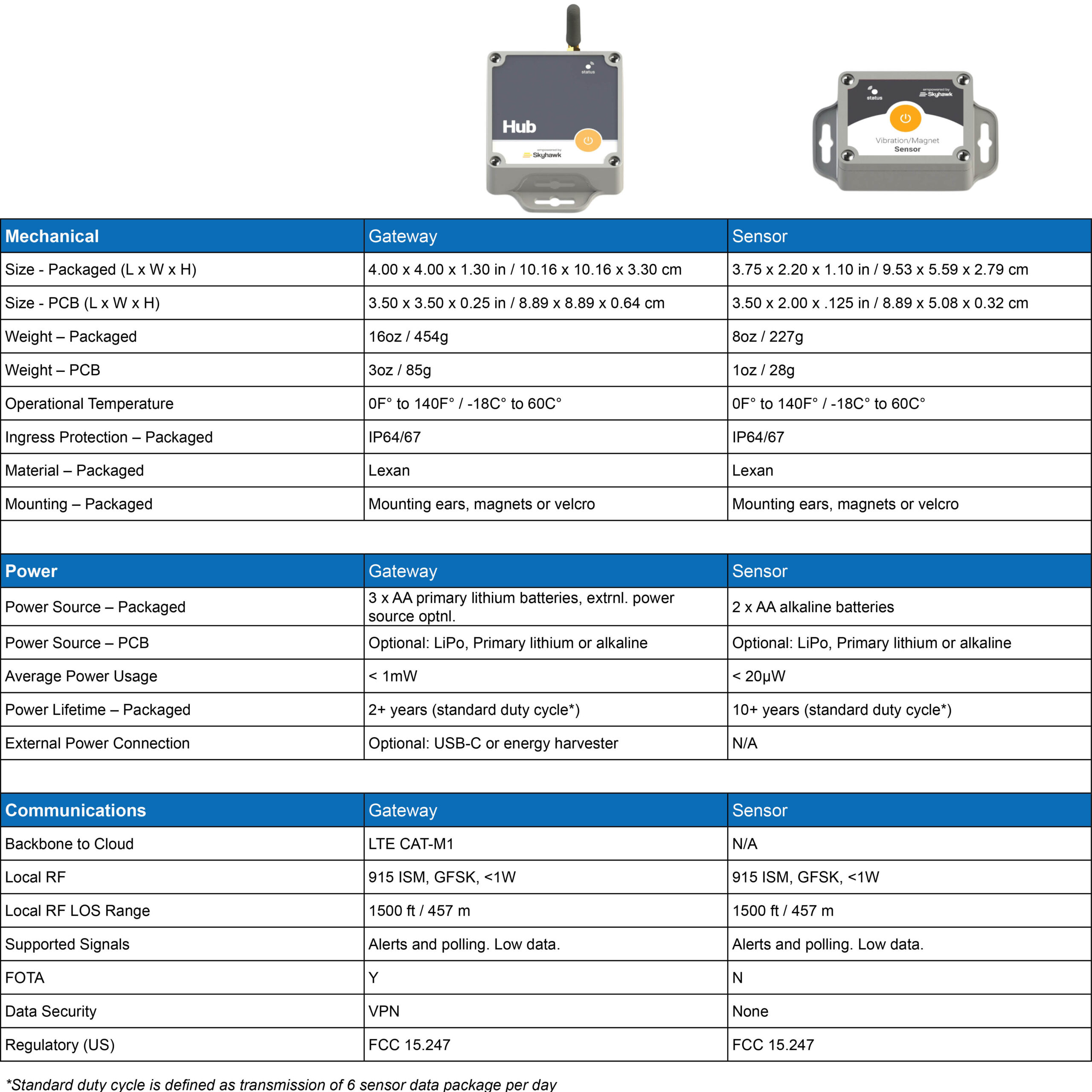 For more information on the PRIoT Connectivity Platform, fill out the form below.
[gravityform id="3″ title="false" description="false" ajax="true"]