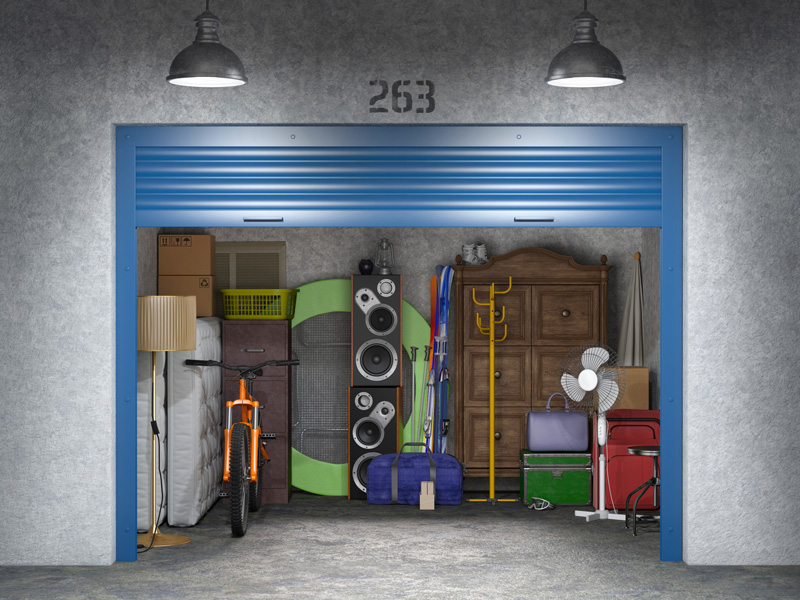 If the closets, garage, and basement in your home are already at capacity, you are not alone. Many people have more things than they can store at their residence. There are many reasons that we lack adequate storage in our abodes—items are inherited, work equipment becomes overwhelming, nostalgic keepsakes accumulate, and more. Often these things aren't easily replaceable, so we want to keep them safe. The solution we frequently turn to is finding a convenient storage unit that appears to have adequate security to protect our belongings.
The reality: Storage facilities often do little to keep your things safe
A closer examination reveals that storage facilities don't typically exert themselves to safeguard the storage units, putting your belongings at risk. Perhaps they have closed circuit TV or recommend certain locks that are more difficult to remove, but break-ins and theft still impact a growing number of customers. The security pitfalls at these facilities can result in inconvenience, insurance headache, and heartbreak.
Given the real possibility of a theft in your unit, questions arise. Do you have any recourse with the storage facility? Is the facility liable for anything that happens to your belongings? The answers are often murky, but coverage and liability appear to be limited.
Take these cautionary tales into account.
Intact locks cause issues – A theft has occurred in a storage unit. If the customer discovers an intact lock (either theirs or a new replacement lock attached by the thieves) on the unit, the insurance company does not consider a theft to have taken place. No claims can be made in this case, according to the fine print of certain storage unit providers.
Disc locks are not infallible – Although these round locks are more difficult to remove, some perpetrators still do it. Then they access your unit, take your things, leave your unit, and secure it with a new lock.
Tunneling happens – Sometimes thieves rent a unit and then break through the sidewalls, which are often thin barriers composed of drywall, to access units next to the rented unit, and then continue down the whole row of storage units.
Your own insurance has limitations – Be aware that your own private insurance may not provide the coverage you expect. The time to ask questions is before you need to file a claim.
With customers only being notified days or even months after a unit has been breached, and stolen items reported with no follow-up by the facility, the burden falls to you to make sure you keep informed of the status of your unit and your things.
What you can do to protect your belongings
Knowing if and when something has happened to your storage unit provides critical information—and an alert and a timestamp can help you act fast. With Kiwi IR from Skyhawk, you are notified in real-time when someone has entered your unit, prompting a call to the facility, where they can then access the security footage to get further information.
The Kiwi IR is an easy-to-set up infra-red remote monitoring device that is powered by cellular technology, with no need for Wi-Fi or Bluetooth connections. With Kiwi IR you can:
Gain built-in access and entry detection for your storage unit.
Monitor assets with nationwide cellular coverage.
Receive real-time notifications by text, email, and in-app.
Experience 2+ year battery life without recharging or replacing.
Benefit from rugged and weatherproof design.
Priced at $99, the Kiwi IR is less expensive than most monitoring devices. Factor in its unique standalone capability and cellular connectivity either, it is easy to deploy and costs nothing to use.
Learn more about the features and benefits of this powerful yet simple monitoring device. And start protecting the items in your storage unit today.